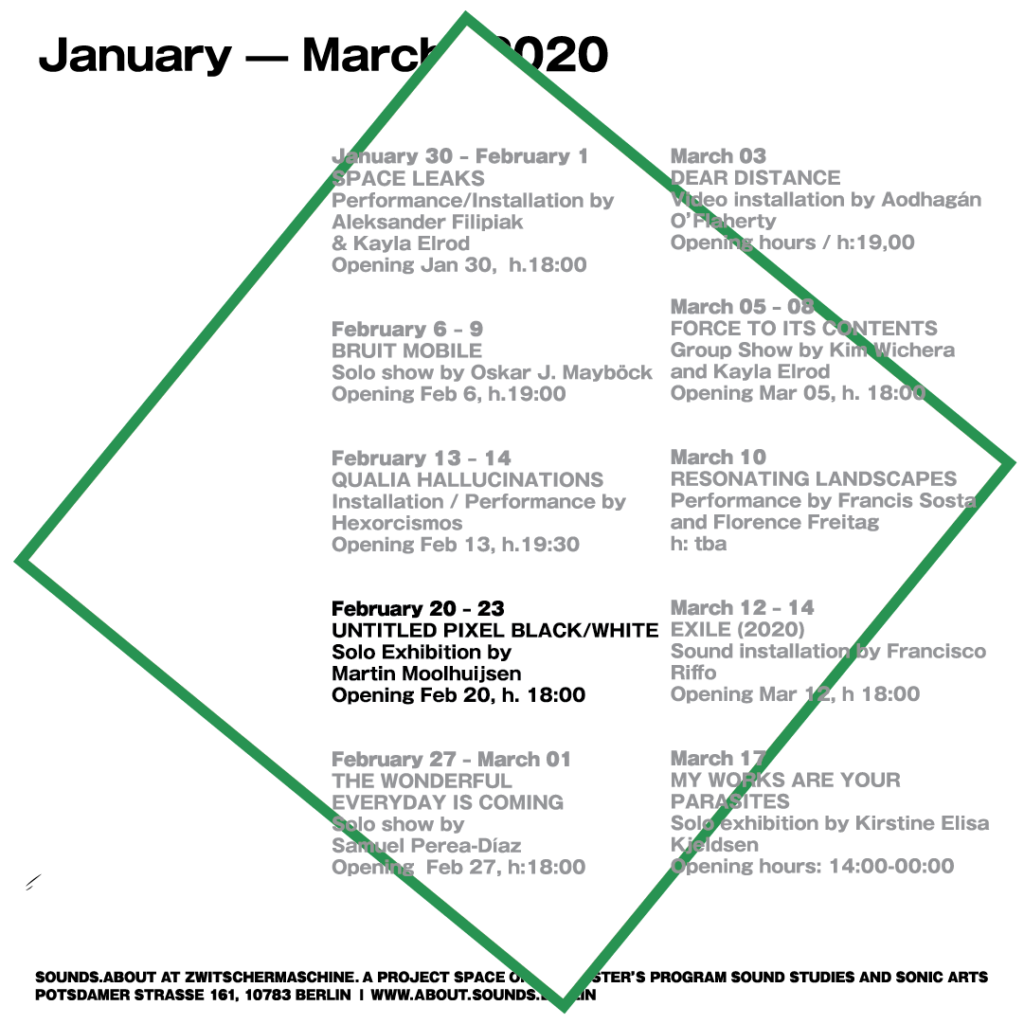 untitled pixel black/white is a Solo Show by Martin Moolhuijsen.
Exhibition opening hours: February 20 – 23, h.18:00-21:00
Opening Feb 20, h. 18:00
Description
" … truth, whose mother is history, who is the rival of time, depository of deeds, witness of the past, example and lesson to the present, and warning to the future."
Starting from these words from the writer Pierre Menard, the exhibition 'untitled pixel black/white' offers a glimpse on sound and soundless works by Martin Moolhuijsen whose main topic is non-linear time and its representation. The four works presented: variations on a theme by kazimir malevich, infinite jest, three tautautologies about mnemosyne and poems, range from sound sculpture to performative records, from poetry to performative QR Codes. Whether by trying to establish an hyper-textual form or by making the listeners lose themselves into the apparently concentric groves of a spinning record, time is never intended as a succession of events, but rather as missing gap that allows a simultaneity of non-events to happen.
Artist bio
Martin Moolhuijsen is a conceptual and sound artist based in Berlin.
After completing a bachelor degree is Drama, Art and Music Studies at the University of Bologna in 2018, he moved to Berlin and enrolled in the MA Sound Studies and Sonic Arts at the Universität der Künste. His work often takes the form of installations and fixed-media pieces and focuses mostly around the concept of time, which is investigated both at a phenomenological level and at a conceptual one through the exploration of related topics such as history, language, absence and inaudibility. His work and collaborations have been shown, exhibited or broadcast at DAMSlab (IT), Deutschlandfunk Kultur, Radio Corax, Geräuschkulisse, Akademie der Künste (Kontakte '19. Biennal for Electroacoustic Music and Sound Art).