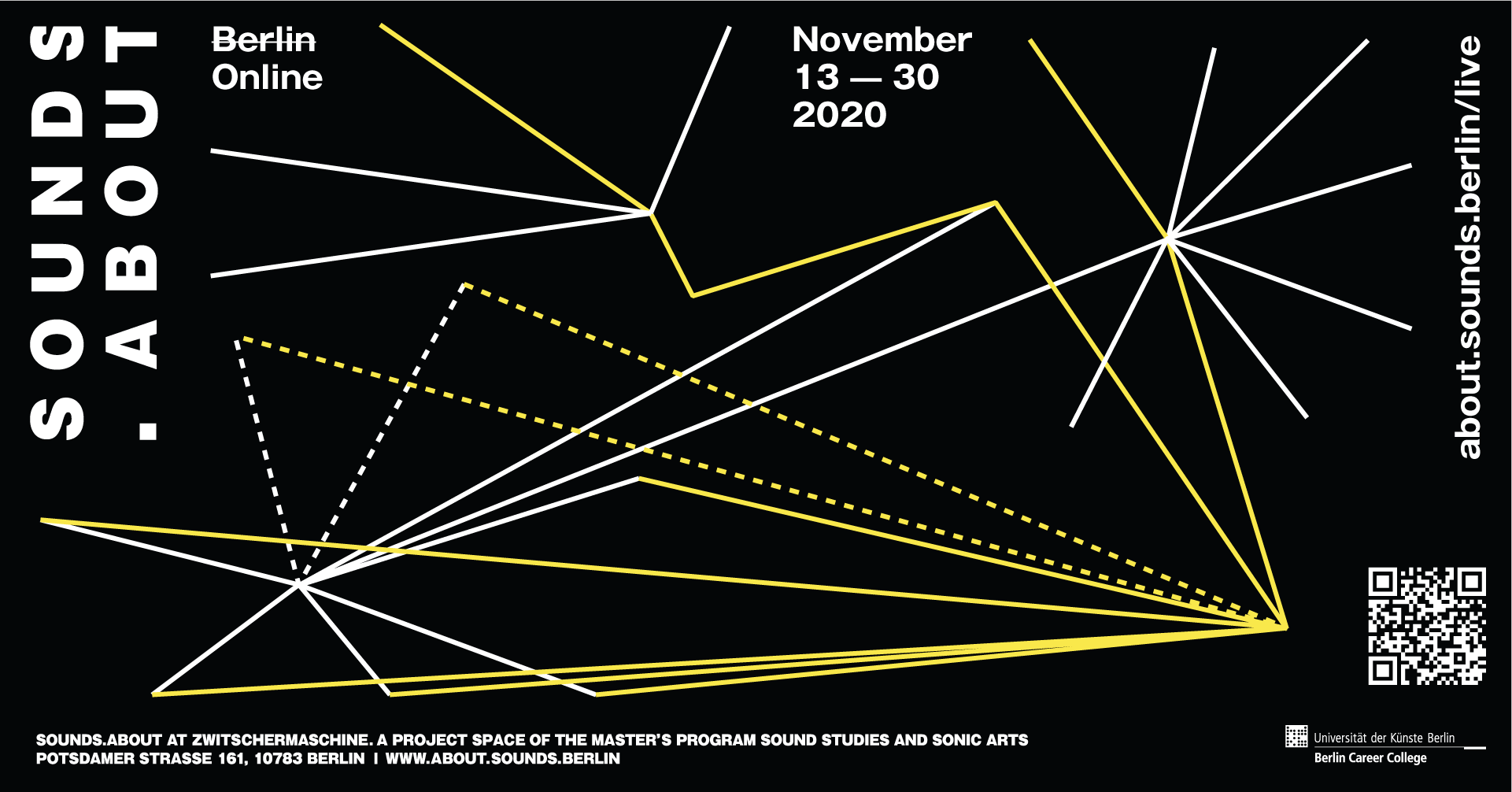 ---
FRIDAY, 13 NOVEMBER 2020
Aleksander Filipiak and Kayla Elrod
Cymbal Improvisation No.1
The two artists investigate the various sounds of the cymbal using miscellaneous objects, contact mics, and effect pedals. The discovered sounds are accompanied by vocals and altered electric guitar.
---
TUESDAY, 17 NOVEMBER 2020
Mark Ballyk
Window
Delicate disconnection
that touches everything
touches everything in the sense that
it reminds us to remember
everything is connected
---
WEDNESDAY, 18 NOVEMBER
Nicolas Espinoza
Empty When Full
Empty When Full is a minimalist composition that invites you to experience dualities of a system of accumulation incapable of regulating itself, and speculates on its self-destruction.Time-space and fragility-violence are the dualities brought into play in a feedback scheme that manifests the relationship between structure and operation through the resonant continuity of a discontinuous body, a composition whose indeterminate duration exists between infinity and the destruction of the system.
---
FRIDAY – SUNDAY, 20-22 NOVEMBER
Short Streaming Film Festival
3 evenings of online screening – more than 21 Short movies by the students of the Sound Studies and Sonic Arts MA at the Universität der Künste.
___
FRIDAY 20 NOVEMBER
Dillon Bastan
Fluky Circumstances (50m)
Fluky Circumstances Is a series of short stories created by Dillon Bastan. The stories were developed by a process that allowed for mixed meanings and random actions. The result is a variety of surreal and strange events. Each story presents a different mood, journey, and character.
---
SATURDAY 21 NOVEMBER
Francis Sosta
Dancing on the Ruins (6m 50s)
Las Maleantes
Belladona Voluxa (5m 15s)
Diane Barbé
A peine (1m 44s), Wassertanz (2m 35s) and Underwater Study #1 (2m 7s)
Tornike Margvelashvili
Transition (2m 14s) and Look (1m 3s)

Yun-Chu Liang
Flaneur | Vogelsang (8m)
Menghan Wang
THEAR (5m 50s)
Kayla Elrod
Alone Time: An Exercise in Self Voyeurism (7m 7s)
Heather Fae Calla
Unearthing (6m 21s)
Genesis Victoria
Perrx (Dxg) (4m 56s)
Nicolai Vesterkær Krog and Angelo Hamsworth
Not 'Either/Or' but 'Both-And' (4m)
Ani Samperi
La Sorciere (3m)

Udo Koloska and Bianca Baalhorn
Rituale (12m 8s)
Endre Vazul Mándli
Z (4m)
Hyewon Heather Suk
Insideout (5m 28s)
Jorge Quintela with sound by Davide Luciani
Astrolabio (4m 24s)
Yuhua Li
🌎🌱🐒🤔👾🙊 (11m)
---
SATURDAY 21 NOVEMBER, 2020
Aleks Filipiak
Spatula (23m 22s)
Paolo Buatti, in collaboration with Davide Luciani
Dia Silla (29 min 35 sec)
The documentary 'Dia Silla' collects the survivors' testimonies and images of the places affected by the seismic events of 2016 and 2017 in Central Italy. The narrative focus specifically on the day of the 18th of January 2017, when a heavy snowstorm, several earthquakes of high magnitude and the consequential interruption of communications and networks lines left a powerful impression on the community's memory. These events occurred in an area particularly ill-suited to deal with them. Acquasanta Terme is a large area, sparsely populated, with a predominantly elderly population. Similar to an audiovisual symphony, the movie create a portrait about memory, human fragility, landscapes and the struggle against isolation and natural disasters.
---
WEDNESDAY, 25 NOVEMBER, 2020
G. Lucas Crane
Red House On a Hill
An aural miasma for the radio by G Lucas Crane, written by G Lucas Crane and Angela Moore, beats and loops by G Lucas Crane and Pam Finch.
Red House on a Hill is a piece of radio-theater set in a world where the energy crisis has been solved, but solved a little too well. Today, we live in a culture of false scarcity that we have brought with us from the animal kingdom: I better eat now, because I don't know when ill eat again. Wealth is hoarded by small groups, while larger groups starve, and the morals and ethics of this situation align to justify what is already happening, not what could be happening. In the world of the Red House on the Hill, society came together to actually solve the energy crisis: not having enough energy to go around, but went too far: now let's just make energy out of everything, out of whatever is laying around. And we'll just cover everything in outlets. just outlets abso-fucking-lutly everywhere. Let's make power. And that power will flow. And that power will need a throne. And that throne will be in a house, upon a hill.
---
FRIDAY, 27 NOVEMBER, 2020
Antonino Modica
Monks Mound
Antonino Modica presents a live episode of the recurring mix series Monks Mound, showcasing a selection of experimental, electroacoustic, drone and noise pieces
---
SATURDAY, 28 NOVEMBER, 2020
Nina Guo & Augustė Vickunaitė
Sheeps
Nina Guo and Auguste Vickunaite freely improvise together; Nina sings and Auguste plays
reel-to-reel tape recorders. Their music frequently has loops and noise, but not exclusively. All sounds are live and analogue. All text is improvised. This piece, Sheeps, combines sound from one of the artists' rehearsals with footage that they took near their studio. It features a very important theme in their work and creative practice together.
---
SATURDAY, 28 NOVEMBER, 2020
Menghan Wang
Inverse
Inverse is an experimental journey prepared during and for living under 2020's pandemic influences. It is a conversation with oneself in solitude, a desire to breakthrough limitations, and a contemplative experiment in progress.
---
MONDAY, 30 NOVEMBER, 2020
Misantrop
why am i even listening to you to begin with?
MONDAY, 21 DECEMBER, 2020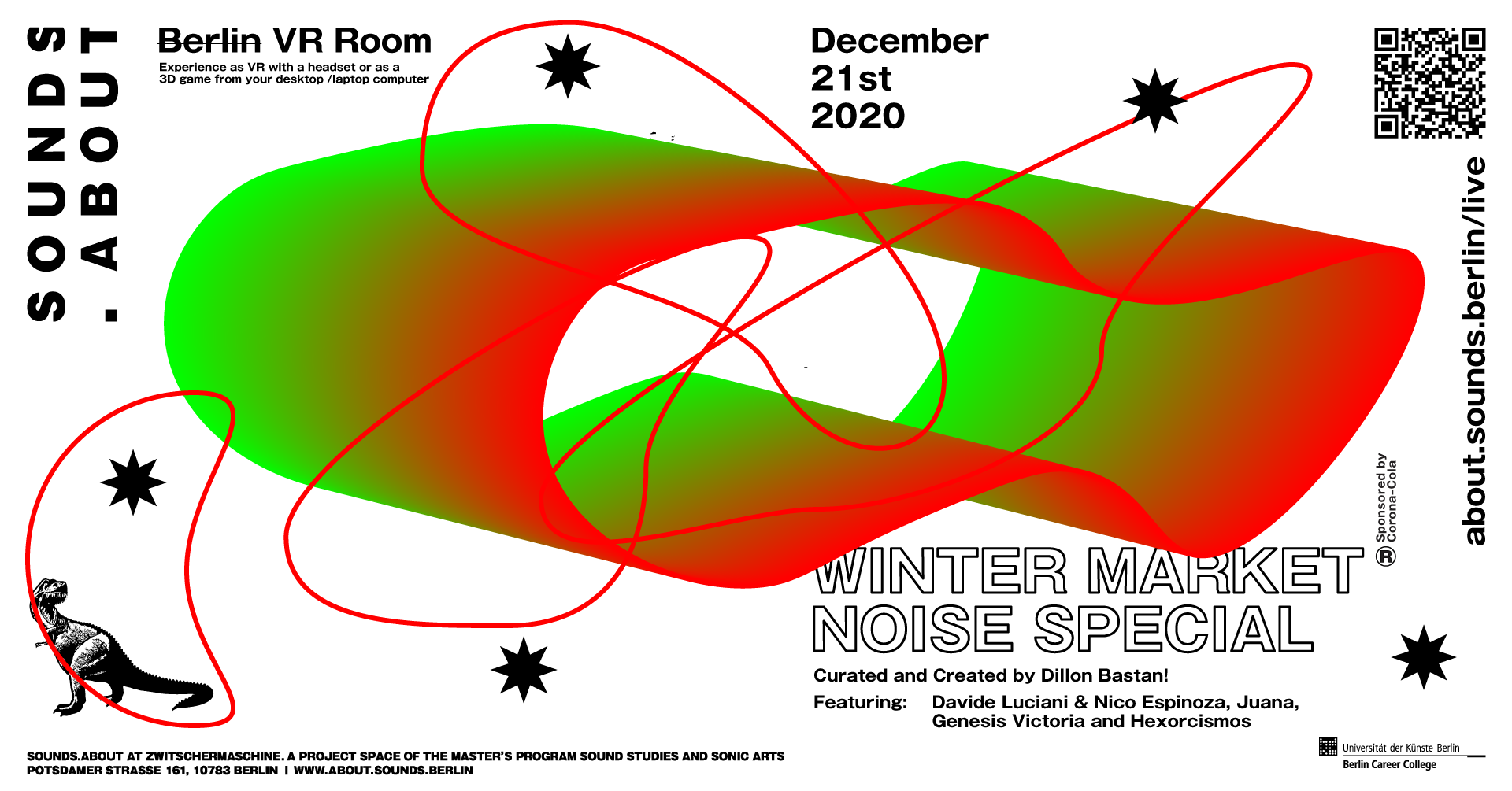 Winter Market Noise Special (sponsored by Corona-Cola®)
Curated and created by Dillon Bastan, feat. Davide Luciani + Nico Espinoza + Juana + Genesis Victoria + Hexorcismos
The **VR Winter Market Noise Special (Sponsored by Corona-Cola®)** filled the place in our hearts where Christmas markets used to be. We enjoyed this Winter Market in a safe, socially distanced virtual environment with live music noise performances! Corona-Cola® snow, santas, market stalls, a state of the art sound system, and even a bar with a view. The perfect place to spend your holiday with friends! The virtual space is still available to enter from your laptop, desktop, or VR headset: https://hub.link/HKhswoR