Performances by Germaine Png, Zach Hart and Makoto Oshiro
26. November 2023
Doors open at 18:00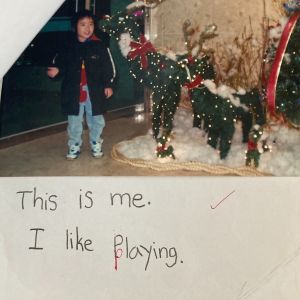 Identity, Identitty, Identitea with me. (so noisy!!) by Germaine Png
Growing up is weird, and oh so noisy. Germaine Png rambles on about her very normal 25 years of upbringing and various periods of identity crises in a lecture/comedy-performance (she does hope she can make somebody laugh). She reads out diary entries from childhood, mum's love songs CD, evaluating her relationship with the church, accents, being a boy, and mostly trying to suppress the noise of identity– the unspoken social pressure to define yourself with words. Everyone is welcome to listen, enjoy a cup of tea, and be a part of her most personal piece yet.
Germaine Png is a performance/ sound artist, contemporary percussionist, and composer currently pursuing a Masters in Sound Studies and Sonic Art at Universität der Künste, Berlin. She definitely is a self-described artistically confused individual, but she would like to think that remaining so for the rest of her life is also okay.
Parallels by Zach Hart
Video, Stereo Sound with Live Electronics, Duration: 20 minutes
A series of thoughts collected around the intimacy of parallel. How close some thoughts can come to aligning… they create friction and inertia, but then they may find themselves, again, at quite a distance from one another.
Performance by Makoto Oshiro
Makoto Oshiro – Makoto Oshiro is a Berlin-Tokyo based performer and artist. His primary medium is sound, but he also combines other elements including light, electricity and movement of objects. In live performances, he uses self-made tools and instruments that are based on electronic devices, every day materials, and junk. His installation work handles sound as a physical and auditory phenomenon, and focuses on characteristics such as vibration and interference. He is also a member of the live installation / performance group The Great △(夏の大△) with Takahiro Kawaguchi and Satoshi Yashiro, and runs the label Basic Function.