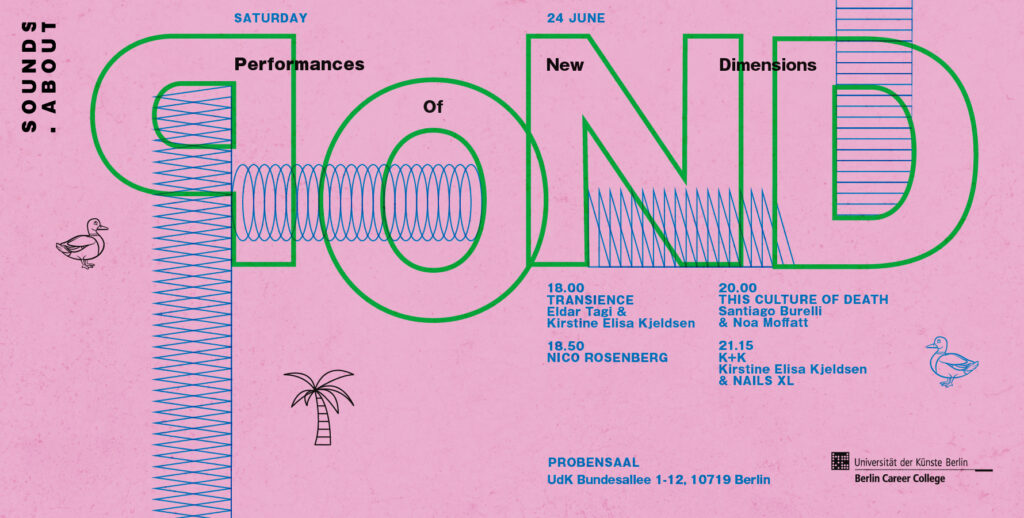 ---
SoundsAbout and students of the MA Sound Studies and Sonic Art present…
POND
Performances of New Dimensions ! — a fresh SoundS performance series

When? 24th June 18h ~ 2145h
Where? Bundesallee 1-12,Probensaal, UdK Berlin
Who can come? Anyone can come! Entry by donation, not a formal concert, Just. Be. You.
---
In this series, students and guests from the MA Sound Studies and Sonic Art program get together to perform live.
Currently situated within UdK's music building, POND aims to add to the range of repertoire displayed at this location of rich institutional history.
---
1800h Transience
Eldar Tagi & Kirstine Elisa Kjeldsen
"Transience" is a collaborative project between Eldar Tagi and Kirstine Elisa Kjeldsen that explores ephemerality, sponteneity, and impermanence through free improvisation. The performance features use of found sound, electronics, and unconventional musical instruments that converge into dense soundscapes that vacillate between serene calm and turbulent chaos. To paraphrase the words of the poet Pedro Salinas: "Sound. Nothing more. Sound. Nothing less. And let that be enough for you."
In the field of sound art, experimental music and artistic research, Kirstine Elisa Kjeldsen (she/they) explores listening and sounding as ways to approach relation and perception. Through embodied feminist practices, Kirstine works with sound synthesis, improvisation and field recording as well as with hand craft and self-made electro-acoustic instruments. Kirstine has performed and shown work in contexts such as documenta (DE), Inkonst (SE), Mózg (PL), Christiansborg Slotskirke (DK) and Silent Green (DE). Their first solo exhibition 'Skin Eats Sound' was shown at Kirsten Kjærs Museum (DK) last year. Eldar Tagi is a sound artist, composer, performer, and researcher originally from Almaty, Kazakhstan, who works primarily with the medium of sound. His artistic practice focuses on improvisational approaches, environmental sounds, and use of electronics, and unconventional instruments. Tagi's work reflects his multicultural background and search for transcendent sonic experiences. He has been an active member of the experimental music community in Los Angeles and has participated in numerous festivals and exhibitions worldwide, including CTM, Unsound, Desert Daze, and CEC ArtsLink residency. Since 2021, Tagi has been studying at the Sound Studies and Sonic Arts program at UDK Berlin.
1850h Nico Rosenberg
Nico Rosenberg's music is known for its atmospheric and cinematic qualities, blending elements of ambient, electronic, and classical music. He has released several albums and EPs since 2018 and now was nominated for the second time at the Premios Pulsar, also known as the "Chilean Grammys" in the category of Best Electronic Artist. His music has been praised for its emotional depth and evocative soundscapes.
Nico Rosenberg is a sound artist and multi-instrumentalist from Santiago de Chile. Exploring the use of obsolete cassette recorders and modular synthesizers, its hopeful and melancholic textures invite the listener to contemplate the passing of time.
2000h This Culture of Death
This Culture of Death is a new Berlin-based music and sound group blending genres such as neo-classical, noise, spoken word, gabber, and post-punk. Formed in early 2023, This Culture of Death's spin on classic punk aesthetics mixed with a penchant for sonically dynamic live sets have taken Berlin by surprise. Burelli and Moffatt mix ethereal harp melodies and arpeggios with distorted walls of electric modular noise, resonant harmonic bass lines, and politicized and aggressive spoken word pieces such as Lydia Lunch's seminal "Conspiracy of Women."
Santiago Burelli (b. 1993 Caracas, Venezuela) is an artist whose practice spans various mediums including documentary filmmaking, sound installation, sculpture, and the fringes of popular music genres such as techno, electronica, and film score composition. Armed with a Fender Precision bass harkening back to the 90's and a dynamic modular synth rig, Burelli blends vintage visual and musical aesthetics with futuristic sound design. Though Burelli's tools and chosen mediums are diverse, conceptually, his art aims at addressing societies entangled relationship with extractivist and industrial practices. Via sculpture, Sound, and video, Burelli addresses, illegal and legal mining, industrial production,and e-waste and raw material recycling as they relate to human and civil rights. Noa Moffatt (b. Buxtehude, Germany 2001) is a non-binary harpist and composer based in Berlin, known for their boundary-pushing approach to the ethereal instrument. After starting the harp at the age of 7, Noa has since spent years honing their craft as a performer, and teacher. As a teacher in Berlin, Noa seeks to share their passion and knowledge of the harp with the next generation of musicians. Their teaching style emphasizes experimentation, encouraging their students to explore new sounds and techniques. This spirit of exploration and innovation also drives Noa's own musical projects. Noa's most recent project is a collaboration that explores the intersection of the classical harp and modern soundscapes. Their compositions draw inspiration from post-punk, gabber, experimental, and electronica, blending these disparate elements to create music that is unique and evocative. By pushing the boundaries of what is possible with the harp, Noa aims to expand the instrument's reach and appeal to new audiences.
2115h K+K
Kirstine Elisa Kjeldsen & NAILS XL
The duo gives it up for tactile and rhythmical noises by combining their interests in amplified fingernail extensions and musical feedback loops. They get together to have fun exploring collaborative noise-making with their untameable instruments. NAILS XL explores the sonic potential and histories of fake fingernail extensions. In collaboration with Berlin-based nail artist BOOSHI BISH they designed and tuned 10 fake fingernails, creating individual electro-acoustic instruments that are played by scratching, tapping, drumming, and exploring surfaces. Each nail is fitted with a 10mm piezo mic to amplify the tactile expressions. Kirstine Elisa Kjeldsen operates at different boundaries between control and surprise through the feedback loops of a Behringer mixing console. Using the method of no-input mixing, this inexpensive machine provides a lot of sound and a lot of fun, creating patterns and rhythms only to be held for a certain amount of time before it slips away by the touch of a knob.
Kirstine Elisa Kjeldsen: In the field of sound art, experimental music and artistic research, Kirstine Elisa Kjeldsen (she/they) explores listening and sounding as ways to approach relation and perception. Through embodied feminist practices, Kirstine works with sound synthesis, improvisation and field recording as well as with hand craft and self-made electro-acoustic instruments. Kirstine has performed and shown work in contexts such as documenta (DE), Inkonst (SE), Mózg (PL), Christiansborg Slotskirke (DK) and Silent Green (DE). Their first solo exhibition 'Skin Eats Sound' was shown at Kirsten Kjærs Museum (DK) last year. Kayla Elrod/NAILS XL: Kayla Elrod aka NAILS XL uses sound and body to construct experiments and performances, engaging audiences with topics like sex work, classism, utility, and waste. Her approach combines touching, listening and role-play to inform the designs and explorations of props which also function as instruments. Her works usually take the shape of durational performances, music, site-specific engagements, videos, audio collages, and installations
Read more about the artists here