12 FEB,
19h-21h
Probensaal @ UdK, Bundesallee 1-12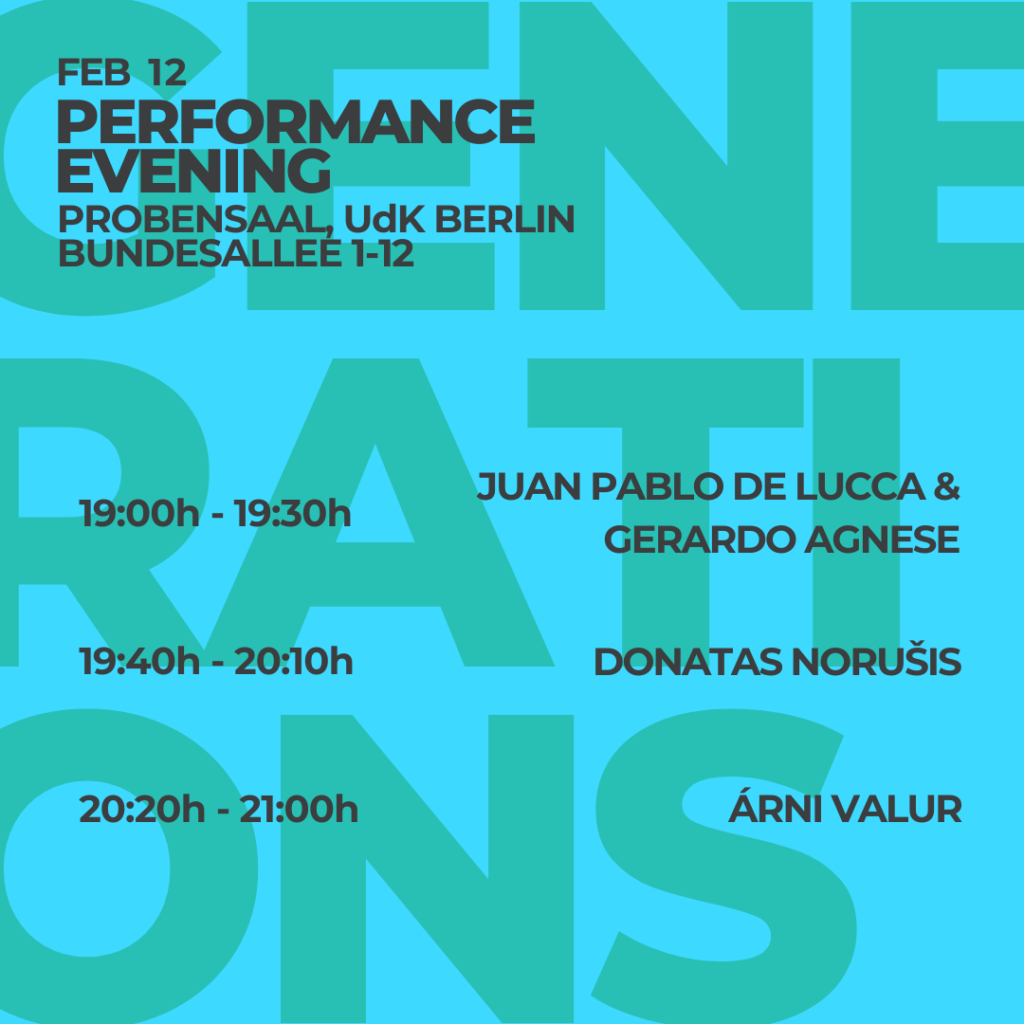 JUAN PABLO DE LUCCA & GERARDO AGNESE present Intersecciones:
Playing along the concert conventions, "Intersecciones" is an improvisational performance that features electronics and bandoneon, a German instrument known mostly for its use in Argentine tango music. Working through reiteration, citation, and translation, the performers become "cultural survivors" forced to create the conditions for their own identities to exist.
——
DONATAS NORUŠIS presents It's just a phase:
Performance emphasizes a relationship between an artist's anxiety and performativity.
Low-frequency compositions that utilize a sound phasing phenomenon are being performed live, while simultaneously, the electricity generated by the artist's pulse intensity unpredictably disrupts the subtle frequency balance.
——
ÁRNI VALUR presents Semantic Confabulation:
Semantic Confabulation tells the tale of two deranged and overworked educational AV units which are rapidly approaching their EOL (End-Of-Life). After years of tedious replays limited to historical facts and academic jargon they team up with a gang of obsolete VFX + VMIX units in search of a deeper more ecstatic truth.
---
ABOUT THE ARTISTS
Juan Pablo de Lucca is an Argentinian composer, producer, and pianist working in Berlin.
His work explores acoustic and electronic sound spaces while drawing on various musical
traditions. He has worked for film, theater, dance, and composed for solo piano, chamber
orchestras, and mixed ensembles. He has performed in venues as diverse as
Concertgebouw, Amsterdam, Haus der Musik, Innsbruck, and festivals Buenos Aires
Tango Festival, Oslo Chamber Music Festival, and Mexico Acoustic Ecology Festival.

Gerardo Agnese is a bandoneonist, composer, and arranger born in Rosario, Argentina.
He studied at the Music Conservatory of Rosario (Argentina) with the legendary Domingo
Federico and obtained a master's degree at the Codarts Conservatory in the Netherlands.
He also studied bandoneon with maestros Rodolfo Montironi and Juan José Mosalini, and
studied orchestration, composition, and musical arrangements with Gustavo Beytelman,
Rodolfo Mederos, and Javier Martinez Lo Re. He plays, arranges, and composes for
various musical ensembles as well as for performances of theater and dance.
Donatas Norušis (b.1990) artistic practice began as a visual artist with attention towards
light and surface, but during the last seven years, the creative axis shifted towards sound
and the technological, social, and spatial narratives suggested by specific properties of
this medium. Altough sound has become the main tool of creative practice, experiences
from light art, sculpture, animation, and filmmaking can still be traced in his works.
Recent work has been presented in group/solo exhibitions, and festivals in Lithuania and
abroad. In the spring of 2022 Donatas graduated from the Sculpture Department of the
Vilnius Academy of Arts with a Bachelor's degree, and in the autumn of 2022, he started
his Master's degree in Sound Studies and Sonic Arts at the University of the Arts in Berlin.
Árni Valur's practice in recent years has been revolving around novel techniques in
improvisation, sound design and scoring. Currently, his work oscillates between club
music, film score composition, experimental video production and performance.